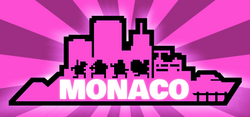 As early as 2010 Monaco was winning awards when the concept was first introduced. Since then, three awards are already under its belt, and it has yet to be released. Those include the 2010 IGF Seumus McNally Grand Prize, the 2010 IGF Excellence in Design, and Destructoid's PAX Prime 2012 Winner. Check out the press links below to see what the buzz is all about:
Ad blocker interference detected!
Wikia is a free-to-use site that makes money from advertising. We have a modified experience for viewers using ad blockers

Wikia is not accessible if you've made further modifications. Remove the custom ad blocker rule(s) and the page will load as expected.